Thanksgiving: An American Tradition with Global Appeal
November 6, 2023
Thanksgiving brings to mind images of autumn leaves, pumpkin pie, and families gathered around a bountiful table. It's a distinctly American holiday engrossed with the spirit of gratitude. This feeling resonates around the globe.
As we delve into the cozy folds of this festive time, let's explore the roots of Thanksgiving in the USA, how it's observed in various parts of the world, and why Topsy's Popcorn is the perfect treat to complement your celebrations, wherever you are.
The American Tale of Thanksgiving
The story of Thanksgiving starts in the early 17th century. It's a tale of survival and the difference faced between different cultures. In 1621, the Plymouth colonists and Wampanoag Native Americans had an autumn harvest that is acknowledged today as one of the first Thanksgiving memories in the Plymouth colonies.
This event came after a harsh winter, and the feast was a moment of celebration for the colonists who had survived, thanks entirely to the Native Americans who taught them how to cultivate the land, survive the cold weather and make food.
Family-Friendly Fact: The Thanksgiving holiday we continue to celebrate today became an official holiday thanks to a proclamation by President Abraham Lincoln in 1863, during the American Civil War. He declared a national holiday to be celebrated on the last Thursday in November.
Thanksgiving Around the Globe
Though Thanksgiving is an American holiday in the USA, other countries have their own versions or similar celebrations that revolve around giving thanks and enjoying a meal with loved ones. For example, Canada celebrates Thanksgiving in October, while Germany has Erntedankfest, a harvest festival that gives thanks for a good year and a good harvest. Meanwhile, places like Liberia and the Caribbean Island of Grenada also celebrate with family and food year round.
Family-Friendly Fact: While these celebrations may differ in date and traditions, the core idea of pausing to express gratitude with family and friends is a universal theme that can be recognized and appreciated by all.
Topsy's Popcorn is a Treat for All Traditions
No matter how you celebrate Thanksgiving or express gratitude, treats and snacks are often a part of the festivities. Topsy's Popcorn is a versatile and delightful addition to any Thanksgiving tradition.
With its homegrown roots and a range of flavors that can appeal to any palate, Topsy's Popcorn is the perfect snack to munch on as you prepare the feast, play games with your family, or relax after the meal. It brings together young and seasoned family members.
As we reflect on what we're thankful for, sharing with others is a wonderful expression of gratitude. Gifting Topsy's Popcorn to your hosts, friends, or neighbors during Thanksgiving can be a simple yet heartwarming gesture. It's not just a bag of popcorn; it's a symbol of the shared joy and appreciation that lies at the heart of this holiday season.
Family-Friendly Tip: Personalize each bag with a note of thanks, sharing specific reasons you're grateful for that person in your life. It's a personal touch that goes a long way in making someone's day special.
Celebrating Togetherness with Topsy's Popcorn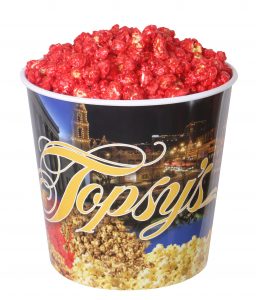 Whether you're gathered around a fire, dining with loved ones, or connecting with family from afar, Thanksgiving is a reminder of the shared humanity and gratitude that knows no borders. Topsy's Popcorn is proud to be a part of your traditions as a snack that brings smiles and satisfaction to every family gathering.
This Thanksgiving, let Topsy's Popcorn help make your celebration a little more special. Visit us to choose from our festive flavors, and let's give thanks together for the simple pleasures that bring us the most joy.
Happy Thanksgiving, and happy snacking!