The Holidays with Topsy's Popcorn
November 7, 2023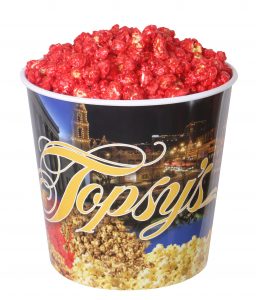 As the holiday season twinkles into full swing, there's nothing quite like the cozy warmth of family traditions, the gleeful unwrapping of presents, and the irresistible aroma of your favorite snacks. This year, Topsy's Popcorn invites you to make our gourmet popcorn a part of your holiday magic.
Tis' the season to snuggle up for movie nights, peruse online for the perfect gift with a snack, or simply indulge in a festive treat, Topsy's has got your cravings covered.
5 Reasons to Choose Topsy's
Topsy's Popcorn is a choice that stands out from the crowd, and for good reason. Here are five unbeatable reasons to make Topsy's your go-to popcorn choice.
The Flavor of Celebration:
Our holiday collection features an array of flavors that capture the essence of the season. From the classic comfort of buttered popcorn to the spicy allure of sweet cinnamon, each kernel is popped to perfection, ensuring a merry munch with every handful.
Gifts Galore:
Struggling with gift ideas? Give the gift of gourmet goodness with Topsy's Popcorn. Our elegantly packaged popcorn tins are not just a treat for the taste buds but a feast for the eyes. Customize your tin with our seasonal designs and a selection of our most-loved flavors. It's a present that's sure to pop!
Decor & More:
Did you know that Topsy's Popcorn isn't just for eating? Our popcorn strings make for charming eco-friendly tree decor, while our colorful popcorn balls can brighten up any holiday table. Get creative and make this a fun family activity!
Movie Night Companion:
As the winter chill sets in, there's nothing more delightful than a holiday movie marathon. Pair those heartwarming classics with our savory and sweet popcorn varieties. Let Topsy's Popcorn transform your movie night into an unforgettable holiday experience.
Ring in the New Year:
When the clock ticks down to midnight, toast to the New Year with a bowl of our gourmet popcorn. It's sure to give you the balance you need while you enjoy your champagne and family.
Purchase Your Tin of Topsy's Popcorn
At Topsy's Popcorn, we believe that the smallest moments often make the biggest memories. Our handcrafted popcorn is more than just a holiday snack; it's a symbol of celebration, a creator of joy, and a reminder of the simple pleasures that make the season bright. So, as you gather around with family and friends, let us add a little extra sparkle to your holiday festivities.
Visit us online or give us a call at 816-523-5555 to purchase your tin of Topsy's Popcorn.