What Are the Four Types of Popcorn?
July 26, 2023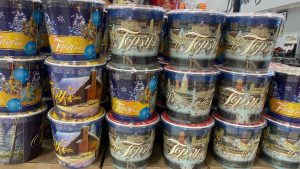 Are you ready to take your taste buds on a ride? When it comes to eating popcorn, Topsy's Popcorn will exceed your flavor expectations. With four mouthwatering flavors to choose from, there's something for everyone, and each kernel promises a burst of unforgettable taste.
Topsy's has magical popcorn that's always done right. Each bite rings with the comforting, savory smoothness of real, creamy butter and is the epitome of what eating popcorn should be—indulgent, satisfying, and with a crunch that is music to your ears.
In this article, we'll discuss the four types of popcorn flavors you should explore.
Topsy's Cheese Popcorn
Topsy's cheese popcorn isn't just cheese popcorn, it's a gourmet experience. One bite and you're taken on a tour de fromage, where sharp, rich, cheesy goodness melds with the light crunch of our premium popcorn. It's a bold and savory ride you'll enjoy.
You can purchase this flavor by visiting us online and picking out a custom tin that suits you.
Topsy's Caramel Popcorn
Sweet and buttery caramel meets the unmistakable crunch of popcorn with this combination. Topsy's caramel popcorn is made up of tiny golden nuggets of sweet delight, creating a perfect symphony of texture and taste. It's like an invitation to a caramel-coated wonderland, where every bite is more irresistible than the last.
You don't have to worry about stopping by one of our Kansas City stores to purchase this flavor. Simply give us a call at (816) 523-5555 to order your tin now.
Topsy's Cinnamon Popcorn
This delightful concoction balances the sweet warmth of cinnamon with the airy crispness of popcorn. A perfect combo that's like biting into a cinnamon-infused cloud, leaving an enchanting trail of spice on your palate.
Eating cinnamon popcorn is perfect for the upcoming holiday season as a snack or even as an edible table decoration!
Topsy's Customized Tins
At Topsy's, we believe in personalizing your popcorn experience. Our customized tins allow you to mix your favorite flavors together, creating your unique popcorn blend.
Whether you want a sweet and savory medley of caramel and cheese, or a combo of buttered and cinnamon, the choice is yours!
And sizes? We've got you covered. From a handy 1-gallon tub for your solo movie nights to a hefty 6.5-gallon tin perfect for parties, we cater to all your popcorn needs.
Purchase your tin of Topsy's popcorn. It's the good stuff!
More on: