What Can I Do with Popcorn Tins
Five Repurposing Projects for your Popcorn Tin

A popcorn tin's life doesn't end when the popcorn runs out. Their durability means that they're full of possibilities for a new life. These projects are fun, cheap, and easy to create.
Ready for summer? A cozy wicker basket will give your home a beachside feel. You'll need:
Glue gun

Popcorn tin

Rope

Fabric
Apply hot glue to one side of the rope. Place the glue side of the rope face down on the outside of the tin, working down from the bottom and wrapping your way to the top. Allow it to cool before lining the inside with a cloth.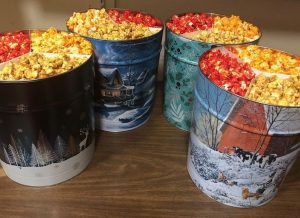 There's no such thing as too much kitchen storage. All you need is to paint your popcorn tin a color that matches your kitchen's theme. Large popcorn tins are perfect for storing flour and sugar. Use smaller ones to manage nuts, more popcorn, or whatever else your heart desires.
Is there any better way to recycle popcorn tins than to give them back to the earth? Fill the tin with dirt and seeds of your choice. Popcorn tins are the perfect home for your basil or tulips.
Popcorn tins are often beautifully decorated. Buy popcorn tins during the holidays and have gift containers that capture the spirit of the season. If your popcorn tins aren't already decorated, you can hodgepodge gift wrap onto them. Just don't forget the bow on top.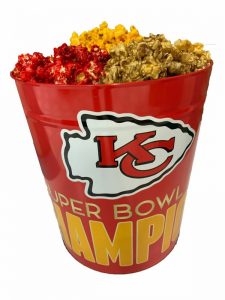 Can't find the perfect Chiefs cooler to store your beers in? Make your own!
Paint your popcorn container yellow and red (or whatever team colors you want). Once the base layer dries, use a stencil or print outline to paint on your team logo. All you need to do after that is add ice and drinks on game day.
Topsy's Popcorn Tins Last a Lifetime
Want a gift that keeps on giving?
Topsy's popcorn tins deliver great taste now and a DIY project in the future. Visit our website to order today.